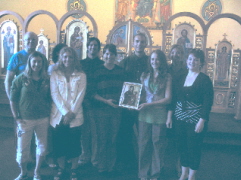 August 19, 2007
Australian Virtual Pilgrims ( see Virtual Pilgrims link) in Saskatoon hosted the icon beautifully, having the icons travel through the hands of the faithful during the Divine Liturgy on August 19, 2007 at Ss. Peter & Paul's in Saskatoon. Plans to cycle with the icon the following week were dampened with very strong wind and rain. This led to a change of itinerary and the icon traveled to Wynyard, SK rather than Regina, SK.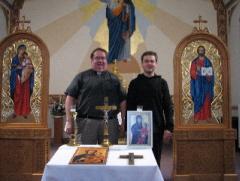 Aug 27
Fr. Vlad Kolpakov, CSsR stands with the icon near the tetrapod at Sacred Heart Ukrainian Catholic Church in Wynard, SK. As pastor of the Wynyard District, Fr. Vlad managed to pray with the icon in Wishart and Foam Lake on Aug 26. Fr. Vasyl Kravchuk, CSsR stands with him.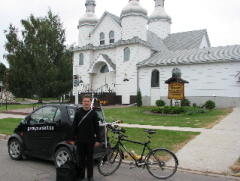 Aug 27
Fr. Vasyl accepted the challenge of driving the car while Fr. Bryan cycled.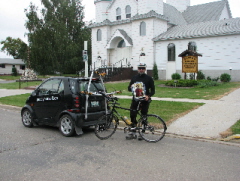 Aug 27
Fr. Bryan continued with the icon from Wynard to Foam Lake.
Aug 27
Foam Lake was reached in the afternoon ride.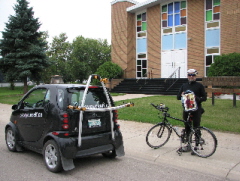 Aug 27
A quick pic taken in front of Holy Eucharist Ukrainian Catholic Church in Foam Lake, where the icon had been prayer with earlier yesterday.