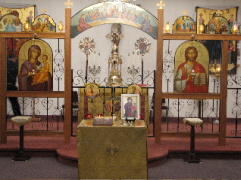 July 15 - Nonetheless, they have a beautiful sacred space to worship. The WYD icon is on the tetrapod.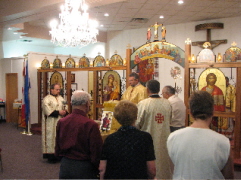 July 15 - Fr. Bryan was invited to be the main celebrant by the pastor Fr. Greg Faryna. This is the reading of the Gospel.
July 15 - Fr. Bryan preached about the need for youth to identify with the teaching authority of the church in a world that suffers from Relativism (ignoring God's Divine Law and Natural Law). World Youth Day helps develop that relationship between youth and the church's Hierarchy.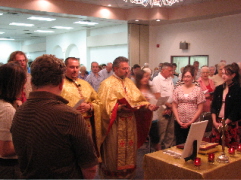 July 15 - Fr. Greg Faryna and Fr. Bryan Bayda pray before the WYD icon with Pilgrims going to Sydney near the end of the Divine Liturgy at Holy Cross Ukrainian Catholic Church.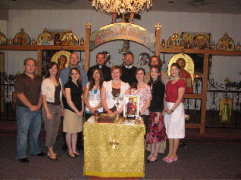 July 15 - Fr. Greg Faryna and Fr. Bryan Bayda posing with some of the young adults that will travel to Sydney Australia for World Youth Day 2008.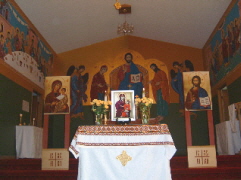 July 30 - The WYD icon arrives at Holy Spirit Ukrainian Catholic Church in Lloydminster, AB earlier on Friday, July 27. Placed prominently on the tetrapod, the icon harmonizes with the other icons of the sanctuary, some still in the process of being written.