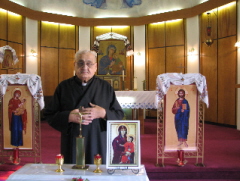 Sep 16
Deacon M. Strilec was a gracious host. The pastor, Fr. Tkatchuk was serving the faithful in Portage La Prairie that day and unfortunately was not able to be in Brandon for the service.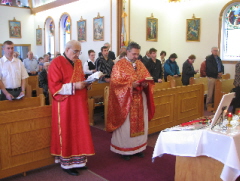 Sep 16
Those attending the Divine Liturgy that Sunday in Brandon sang beautifully before the WYD Icon immediately after the ambo prayer in the service.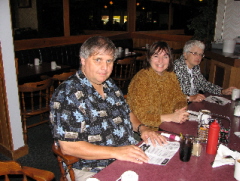 Sep 16
One of the Vice-Presidents of the parish, Bob McKay and his wife Stella next to him suggested Fr. Bryan try a wonderful omelet for brunch. These Pilgrim Partners picked up the tab. Thanks for your kindness.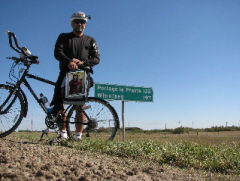 Sep 16
As was mentioned (previous photo page - Sep 15 - bottom pic) Fr. Bryan was able to get the WYD icons over half way to Portage La Prairie before Monica and one of her sons drove out past Hwy #5 and Hwy #16 junction to pick him up to return to Brandon for supper.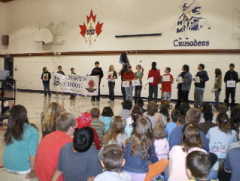 Sept 16 ( Aug 29 Flashback)
The WYD icons are traveling right along. They are traveling so swiftly that it is hard to capture all the place they have been. Here is a few pics of the WYD icons while still in Yorkton, SK on August 29. This shot shows St. Mary's School with the children holding their school banner on the left while those on the right hold individual letters of the website w w w . p a c e y o u r s e l f . c a .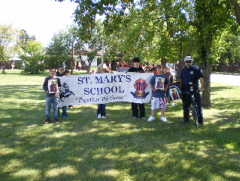 Sep 16 (Aug 29 Flashback)
St. Mary's school children and staff head out around their school yard to begin their journey's as Virtual Pilgrims.