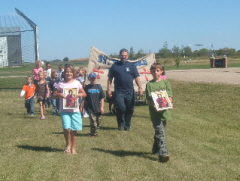 Aug 30
The children walked around the school yard a few times to take part in PACE as Virtual Pilgrims.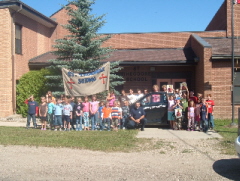 Aug 30
A few pics were taken in front of St. Theodore school.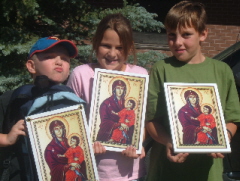 Aug 30
Here are three proud students from St. Theodore School who had a chance to carry the icons.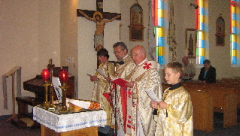 Sep 1
Parishioners attending the Saturday night Divine Liturgy anticipated for Sunday at St. Mary's Ukrainian Catholic Church welcomed the WYD icon.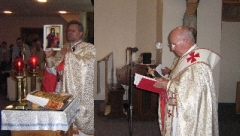 Sep 1
Bishop Michael Wiwchar, CSsR and Fr. Bryan pray with the WYD icon near the end of the Divine Liturgy as usual.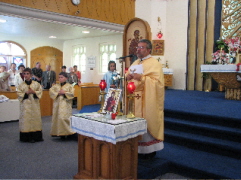 Sep 2
The next morning at the 10am service, Fr. Bryan preached on the importance of having World Youth Day for young people today. A stronger relationship has to be built between today's Catholics and the hierarchy, especially the Teaching Magisterium of the Church. Moral questions that are more difficult to really grasp and understand are emerging all the time. Guidance in this area of ethical land mines is more necessary.