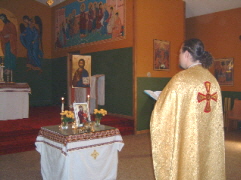 July 30 - Fr. Bohdan Nahachewsky celebrates Akathist with the parish (an ancient service prayed standing).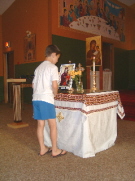 July 30 - A young parishioner comes forward to reverence the icon during an Akathist service that was held on Monday morning 10am.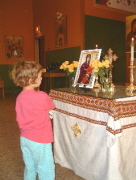 July 30 - Contemplating comes naturally. Children drink in many mysteries as this young parishioner in Lloydminster, AB ponders the WYD icon.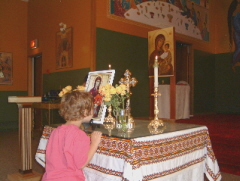 July 30 - Her contemplation gives way to a kiss of reverence. This reminds us of all of our pilgrimages in life. Contemplation and the reverence of God and the Mother of God sustains us.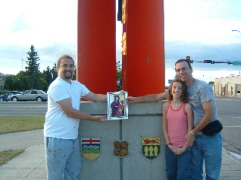 July 31 - The WYD icon crosses the Alberta/Saskatchewan border. Fr. Bohdan Nahachewsky on the Alberta side passes it on to his blood brother Fr. Ivan Nahachewsky and Fr. Ivan's daughter. It is on its way to North Battleford, SK.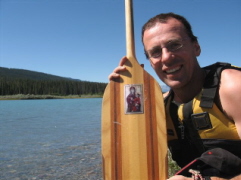 August 15, 2007 - After crossing the Alberta-Saskatchewan border fewer photos were taken unfortunately. None were received to document the visit of the icon in North Battleford although a raffle was held to raise money for the school and youth traveling to Sydney. Likewise, pics were not sent to our web page when the WYD icon visited Prince Albert. This photo was taken of Fr. Ivan Nahachewsky, the pastor of St. George's Parish in Prince Albert when he was canoing in Albert from Nordegg to Rocky Mountain House. Thanks to all the parishioners In North Battleford and Prince Albert for your participation. We are greatful for Virtual Pilgrim efforts!