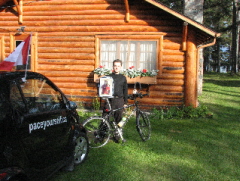 Sep 9
As Fr. Vasyl followed in the Smart car, a brief stop was made at a well known cabin in Riding Mountain National Park. Can you guess who lived here in the past?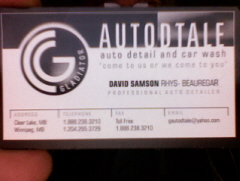 Sep 15
After the WYD?icon left Clear Lake, it wasn't long before a crack in the bike's frame developed. The bike was left in the small town of Onanole, MB just outside the National Park as Fr. Bryan was given a ride back to the Smart Car. Thanks goes out to another Pilgrim Partner, Dave Samson for the lift. David was running his auto detail and car wash and was available to help.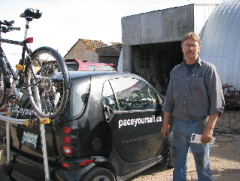 Sep 15
Yet another Pilgrim Partner gave of his time at the drop of dime. UNIQUE WELDING took care of the cracked frame of the bike once it was transported south of Erickson, MB to be welded.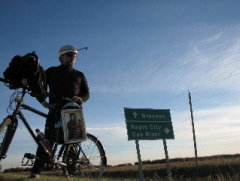 Sep 15
Back on the road again, Fr. Bryan drove to Brandon to make the best of the daylight remaining. To make up the rest of the distance between Onanole and Brandon, he rode northward out of Brandon and doubled back since there was no one to follow in the vehicle that day.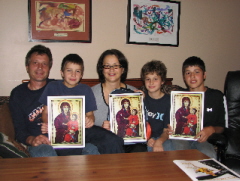 Sep 15
Still more angels from heaven appeared in Brandon by the end of the day. Bruce and Monica Shamray along with their 3 sons welcomed Fr. Bryan into their home for a meal. They fed Fr. Bryan's heart with laughter as well.? The next day (Sep16) after Divine Liturgy, they also drove out past Carberry, MB to pick up Fr. Bryan who took advantage of nice weather to start the WYD icon toward Portage La Prairie. Once they picked him up, a delicious helping of sweet and sour meatballs with potatoes, corn and all the fixings was served up. Bruce, Monica and boys, thanks for being such wonderful Pilgrim Partners!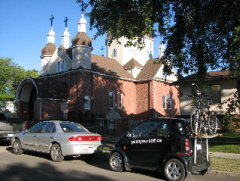 Sep 16
St. Mary's Ukrainian Catholic Church in Brandon welcomed the WYD Icon Sunday morning.