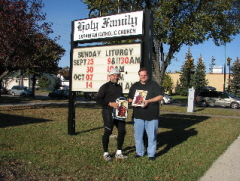 Sep 28
Fr. Bryan was able to personally pass on the WYD icons after its trek across the prairies to Fr. Mark Gnutel, pastor of Holy Family.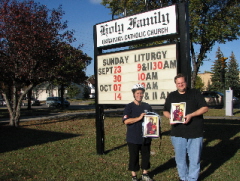 Sep 28
Brenda Bohach was also able to pass on the icons to Fr. Mark. More parishes of the 16 Ukrainian Catholic ones in Winnipeg are anticipating the opportunity to pray with the Icons in the weeks to come.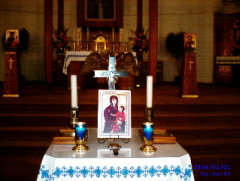 Sep 30 - Dec 6
After arriving in Winnipeg the WYD icons have been traveling within the city a great deal. This photo is of the icons on Nov 18 at St. Nicholas Parish.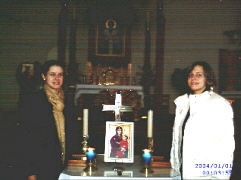 Sep 30 - Dec 6
At St. Nicholas, Kamila Duplak and Oksana Tyrawski are pilgrims that will attend WYD in Sydney July 2008. The other Ukrainian Catholic parishes or events that recently
welcomed the icons for prayer include:
- Sep 30 Holy Family Parish (Wpg)
- Oct 7 St. Joseph's Parish (Wpg)
- Oct 14 St. Anne's Parish (Wpg)
- Oct 21 St. Michael's Parish (Wpg)
- Oct 26 Ukrainian Catholic Church convention
- Oct 28 Descent of the Holy Ghost (Bausejour)
- Nov 4 Holy Eucharist Parish (Wpg)
- Nov 11 Ss. Vladimir & Olga Parish (Wpg)
- Nov 18 St. Nicholas Parish (Wpg)
- Nov 25 Ss. Peter & Paul Parish (Wpg)